Posted by

APA Insurance Services

on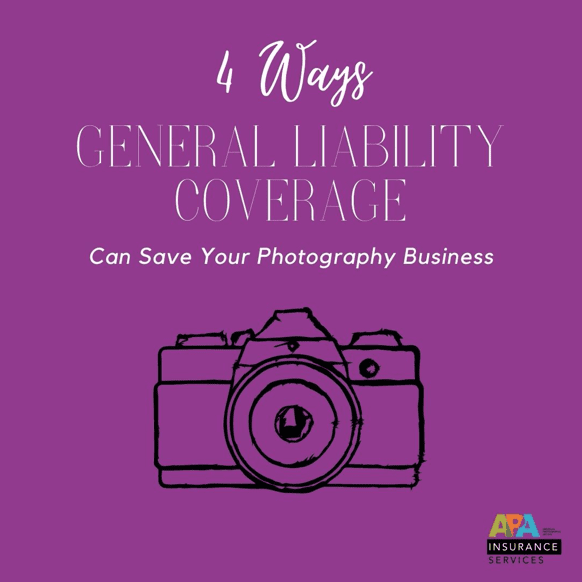 Chances are you became a professional photographer or videographer because you are an artist with a love and talent for the craft. Like most creative craftsmen, you open your mind to the artistic possibilities and may opt not to consider any potentially negative outcomes of this career that you love. That's why APA Insurance Services exists. Our team of Problem Solvers will walk you through all those possible detrimental impacts to your business and find the right insurance package to protect you.
That's why we are proud to provide two turnkey packages to our growing client base of photography professionals. Plan 1 is an Equipment Only Policy that covers both your owned and rented equipment, in the United States and abroad. Plan 2 is our far more comprehensive Premier Photography Insurance Package. Not only does it cover your owned and rented equipment worldwide, but it also provides business personal property coverage, business income coverage, errors & omissions insurance, and auto insurance for non-owned and hired vehicles. By far the most popular and potentially impactful aspect of our Premier Photography Insurance Package is its General Liability Insurance coverage. But what is General Liability Insurance and why do you need it? We don't just have one reason… we have four:
Many Venues Require It
Commercial general liability is a type of insurance policy that provides coverage to a business against bodily injury, personal injury, and property damage caused by the business's operations, products, or injuries that occur on or off the business's premises. Many building landlords, popular reception halls, golf courses, and even some churches require photographers to carry adequate limits of General Liability Insurance. If you don't have General Liability Insurance, chances are you'll be limiting your business needlessly – unable to photograph clients at some of the most popular venues.
Injuries Can Happen When You Least Expect It
You may have labored over the design choices that make your studio's reception area warm and welcoming for incoming clients, but the second someone trips over the leg of a chair and hurts themselves, you'll be glad you have General Liability Insurance. Clients could also fall over a loose electrical cord, get hit with a falling light stand or take a tumble from your set inside your studio space. While these scenarios are purely accidental and even preventable, any ensuing medical bills from sustained bodily injuries are YOUR responsibility. General Liability Insurance will help cover those medical bills from a third party. For any injuries that involve employees, freelancers, independent contractors or yourself, those will be covered by workers' compensation insurance.
People Aren't the Only Thing That Can Get Hurt
Another major benefit to having General Liability Insurance coverage is that in the event that the venue where you are shooting incurs property damage, you are liable for that, as well. For instance, you may be involved in a magazine shoot at a luxury villa when your model – who is perfectly poised in front of a large, beautiful and expensive picture window – loses her balance and breaks several panes of glass. When that bill arrives, you'll be incredibly happy you have General Liability Insurance coverage. It could also be something as innocuous as your camera stand scraping the hardwood floors at a venue. The cost to buff those scratches out could fall squarely on your shoulders.
Property Damage Can Happen in Your own Studio, Too
Fashion photographers know all too well the benefit of having General Liability Insurance Coverage. Imagine shooting the new Fall collection for one of the hottest designers in the country. Your assistant runs in to fix a stray hair on the model's head, then trips over her gown on the way out of the shot – tearing a garment worth thousands of dollars. Your General Liability Insurance can cover that, too!
General Liability Insurance through APA Insurance Services is an easy way to maximize your business's financial protection while keeping costs minimal. A potential lawsuit could be crippling to your photography business as you could face some hefty out-of-pocket costs in uninsured. Our General Liability Insurance features a coverage limit of $2,000,000 for claims – both on and off premises across the U.S. and extending to Puerto Rico and Canada. Your General Liability Insurance coverage through APA Insurance Services covers legal/court fees and defense costs, as well as any settlements or judgements resulting from a general liability claim that lands you in court.
To learn how you could start saving money while protecting the business you've worked so hard to build, call our team of insurance pros today at (678) 822-0150. If it's after office hours, you can fill out our online contact form and one of our team members will be in touch with you shortly. To learn more about APA Insurance Services, visit us at www.apainsuranceservices.com.
Filed Under: Blog, photography insurance
|
Tagged With: insurance for photographers, photographers insurance, photography insurance