Posted by

APA Insurance Services

on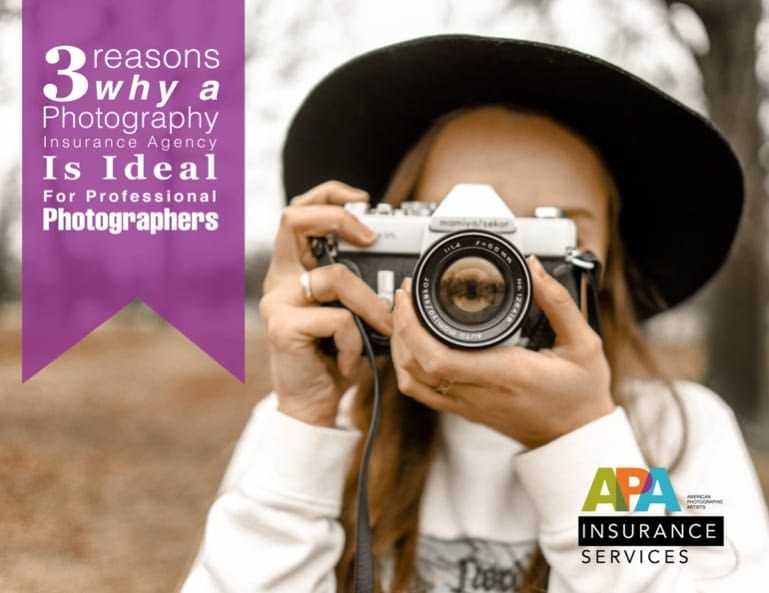 While you may have a talent for a variety of photography genres, it's likely that you have one specialty that makes you stand out in your field. Newborn photographers know just how to capture those sweet little sleepy smiles and beautiful baby feet. High fashion photographers have a knack for getting their model's facial expressions and body language to coincide with the vibe of their attire. And – with beads of sweat on a vine ripened tomato poised atop a perfectly grilled burger with loads of melted cheese – food photographers can create mouthwatering masterpieces in one ideally framed shot. Your clients look to you for your talent and expertise, and the same holds true for clients of APA Insurance Services. Need a little more convincing? Here are three compelling reasons why professional photographers should enlist the services of a photography insurance agency, like APA Insurance Services…
Photographers Are Our Sole Focus
At APA Insurance Services, professional photographers aren't merely our specialty… they're our sole focus. We understand you've got a business to run – and protect. Our team of independent agents has fostered solid relationships with some of the top national and regional carriers in the industry. Those relationships allow us to provide competitive pricing and coverage options. You can rest assured that the company providing your insurance coverage meets our own high standards. Our plans are designed to cover your needs as a professional photographer – whether in your studio or traveling abroad for a location shoot. Because we work exclusively with photographers, we understand how your photography business translates into specific risk exposures. We also realize that many of your clients or off-site venues may require a certificate of insurance before your work can begin. That's why we provide COMPLIMENTARY certificates of insurance with a 24-hour standard turnaround to add ease to your operations.
As Problem Solvers, We're Really Good at Forecasting Potential Risks
Our agents are known as Photography Insurance Problem Solvers. We'll walk you through the benefits of both our featured plans. After learning more about your photography business, we may believe that an Equipment Coverage Only Plan is the right fit for you – granting you insurance and protection for your owned and rented equipment… worldwide! Our base Plan 1 includes Equipment Coverage up to $21,000 for Non-APA Members, and $31,000 for APA Members, as well as coverage for two laptops (with maximum value of $2,500). After a $1,000 deductible, you'll also be covered for theft, mysterious disappearance, fire, vandalism and accidental breakage of your equipment. If we deem a more comprehensive Premier Photography Insurance Package is a better fit for the scope of your photography business, you'll have the peace of mind of knowing that your equipment is covered, as well as your business' personal property and income. You'll also be afforded general liability insurance coverage to protect you and your business against on- and off-site property damage and injuries. With a coverage limit of $2,000,000, you'll enjoy coverage across the United States, Puerto Rico and Canada that will pay for legal/court fees, defense costs, or any settlements, judgements, and more resulting from a general liability claim.
We Come Complete with the American Photographic Artists Stamp of Approval
At APA Insurance Services, we're not above tooting our own horn! We are exceedingly proud of our distinction as the exclusively endorsed insurance provider of American Photographic Artists (APA). So proud, in fact, that we offer preferred rates for APA members – which adds up to significant savings over time. If you haven't become a member of the APA, the benefits of membership extend beyond insurance discounts. Learn more at www.apanational.org.
Whether you are a new photographer just launching your own business or a seasoned shutterbug in search of a new insurance provider, APA Insurance Services welcomes the chance to add you to our ever-growing roster of happy clients. Boasting a 5 out of 5 stars for client reviews, we invite you to read a few to get the best read for what APA Insurance Services can do for you and your photography business. If you've got questions, we've got answers! Call us today at (877) 269-9021 or email karen@apainsuranceservices.com. Our hours are Monday through Friday 8:30am-5:00pm. You can also send us a message online and one of our Photography Insurance Problem Solvers will be in touch with you shortly!
Filed Under: Blog, photography insurance
|
Tagged With: insurance for photographers, photographers insurance, photography insurance