Posted by

APA Insurance Services

on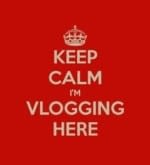 We've all heard of blogging. Thousands, even millions of people make a living off of creating blog posts ranging from making the best chocolate cake to where you can find the best hiking trails. The possibilities are endless! But have you ever heard of vlogging? Vlogging is just the mix of video and blogging. YouTube has definitely evolved over the years to becoming a widely popular platform for getting insight into people's personal lives. Nowadays you can subscribe to someone's YouTube channel and watch them record their daily lives. Whether it's a family of vloggers or just a random man or woman, whatever they upload is accessible to you! The whole theme of their channel can be centered around humor, adventure, or whatever else they feel is necessary to post a video about!
It's almost like you are watching a reality TV show without all the pointless drama. As someone who is very religious with keeping up to date with my favorite vloggers, I can say with conviction that it is the most entertaining thing. If you need another reason to get sucked into the blackhole that is Youtube, I have it for you.
Here are the links to my favorite daily bloggers who make me laugh, smile, and hunger for adventure:
Hope you guys enjoy!
I hope you feel inspired and maybe even decide to start a channel for yourself! Maybe just start with video-taping your day to day life! You don't have to post it online, but it's still fun to go back and watch old videos! It's like flipping through a virtual scrapbook!
Ready. Set. CREATE!!
Karen Stetz at APA Insurance Services strives to help you find the best coverage for your camera equipment and anything else you need to insure. She finds the policies that are AFFORDABLE for YOU! Contact her today: karen@apainsuranceservices.com or 678.822.0150
Filed Under: Blog, Videos
|
Tagged With: channels, daily vlogs, videos, vloggers, vlogging, youtube, youtubers