Posted by

APA Insurance Services

on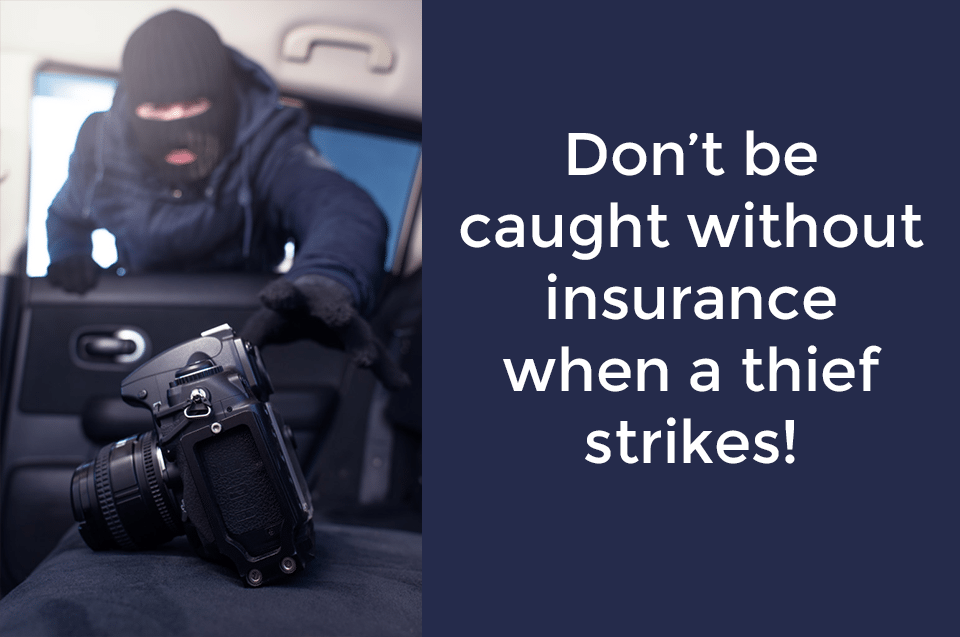 By: Jessica Hartley, Atlanta photographer
It's that feeling when the pit of your stomach drops out, and you're left wondering how this could possibly happen. I had been robbed.
The year was 2013, and after an early-morning photo shoot, I met a client for lunch to discuss a project in the works. When I left the little cafe, I saw it. My car's window was obliterated, and thousands of dollars in photography equipment had vanished. My mind spinning, I mechanically called the police, and tried to tally the exorbitant costs of all the stolen goods.
Year after year, nearly a third of all cameras that are stolen are taken from cars. It's obviously not the safest place to store your gear, but from time to time, busy schedules demand an hour or two of automobile-dwelling. Want to know something even more scary? The policeman who met with me on the day of the break-in, suggested that oftentimes criminals will follow photographers from high-profile shoots, and break into their cars upon arrival to their next locale. I also learned that not only was my Nikon D7000 the most frequently stolen camera at the time, but it was also prime inventory for the ever-growing black market.
Great.
Luckily I was insured, and though my photography business hadn't yet hit great heights, I had the foresight to know that I needed more than a homeowners or automobile policy. (Neither of which would have covered my gear adequately.) And I talked on the phone with my agent about the type of coverage I would need. At the end of the day, my scheduled photography gear was replaced, and it all turned out okay.
So many budding photographers are not so lucky. If you think you don't need insurance because you are risk-averse, think again. Speaking as a photographer, not having quality insurance is the riskiest thing you could possibly do. Remember that not all insurance is the same. APA Insurance Services was designed for photographers, by photographers, and my agent, Karen, is available to answer questions over the phone or by email.
Professional Photographer Business Insurance
Karen Stetz is APA's insurance problem solver, with experience spanning over 10 years. Contact Karen for a custom analysis and proposal of your insurance needs:
Karen Stetz
p: (877) 269-9021
e: karen@apainsuranceservices.com
Need an instant insurance quote? Visit APA Insurance Services.