Posted by

APA Insurance Services

on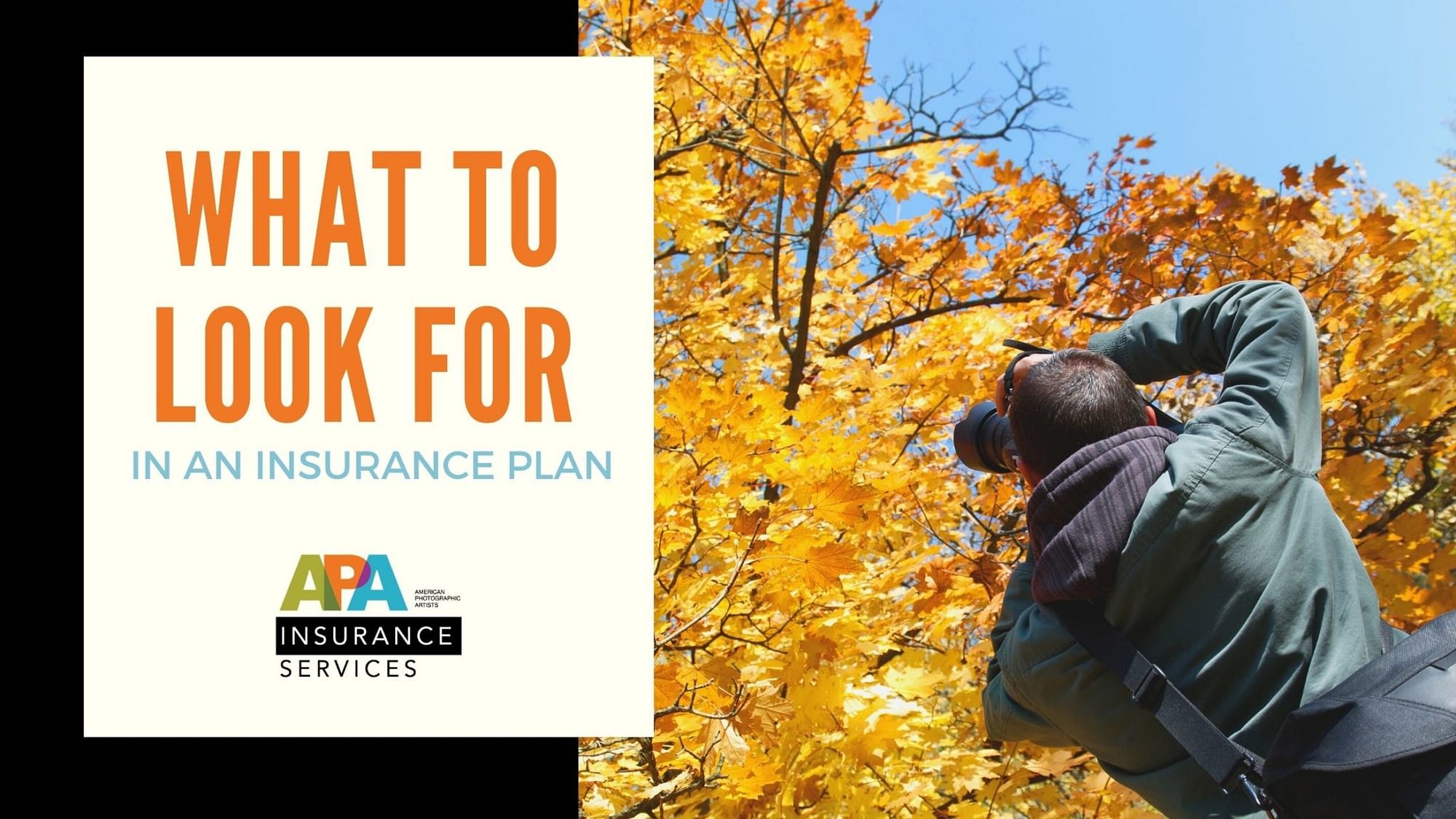 As Fall takes hold and the leaves transform to fiery shades of red, orange and gold before making their annual descent to the Earth, many people take a cue from this "season of change" to make a few changes of their own. From a bold hair color and new wardrobe looks to a fresh coat of paint on the front door and diet to prep for the impending holiday season, change can be a very good thing. That sentiment extends to businesses as well, as visionary leaders look ahead to the coming year, consider streamlining processes and take steps to ensure they are set up for success. If you are a professional photographer, you may appreciate the fact that the Problem Solvers at APA Insurance Services can assist you with those last two items. We can help you determine the ideal plan to fit your needs, overcome potential challenges and further pave the way to success!
What to Look for in an Insurance Plan
Simply by reading this article, you're off to a great start! You understand that it's best to insure your photography business with a company that specializes in insurance plans for professional photographers, rather than a general commercial insurance company that spans the gap in industries served – from accounting to trucking and everything in between. As a matter of fact, our role as Problem Solvers dedicated to the photography industry has earned us the recognition of the American Photographic Artists (APA) as its exclusively endorsed insurance provider. And the skill of our staff paired with excellent results for our clients have earned us Five Star customer reviews on Facebook, Google and Yelp.
If you're just starting out as a professional photographer or your business fits into a very specialized niche, you may not require anything more than an Equipment Coverage Only Plan. It's a plan that covers your owned and rented equipment all over the world. Our base Plan 1 includes Equipment Coverage up to $21,000 for Non-APA Members, and $31,000 for APA Members, as well as coverage for two laptops (with maximum value of $2,500). After a $1,000 deductible, you'll also be covered for theft, mysterious disappearance, fire, vandalism and accidental breakage of your equipment.
For more established photographers with more robust photography schedules or those who are looking to grow to the next level, a more across-the-board Premier Photography Insurance Package may prove a better fit. Not only will you have the peace of mind of knowing that your equipment is covered, but you'll also have an added layer of protection for your business' personal property and income. This plan also grants you general liability insurance coverage to protect you and your business against on- and off-site property damage and injuries. With a coverage limit as high as $2,000,000, you'll enjoy coverage across the United States, Puerto Rico and Canada that will pay for legal/court fees, defense costs, or any settlements, judgements, and more resulting from a general liability claim.
You Don't Have to Have All the Answers… Because We Do
Your best next step is to request a quote from the Problem Solvers at APA Insurance Services. We'll examine your unique photography business' needs and potential risks to find the best solutions at the best price. As a company devoted to providing insurance solutions for professional photographers, our team of independent agents has fostered solid relationships with some of the top national and regional carriers in the industry – allowing us to provide competitive pricing and coverage options.
So, in this season of change – whether launching your photography business, expanding into new territories or niches, or simply looking to a new insurance provider to better suit your needs, APA Insurance Services welcomes the chance to serve you and your business. Call us today at (877) 269-9021 or drop by our office at 11175 Cicero Drive, Suite 575 in Alpharetta. Our hours are Monday through Friday 8:30am-5:00pm. You can also send us a message online and one of our Photography Insurance Problem Solvers will be in touch with you shortly!
From all of us here at APA Insurance Services, we wish you and your business a beautiful Fall season!
Filed Under: Blog, photography insurance
|
Tagged With: insurance for photographers, photographers insurance, photography insurance