Posted by

APA Insurance Services

on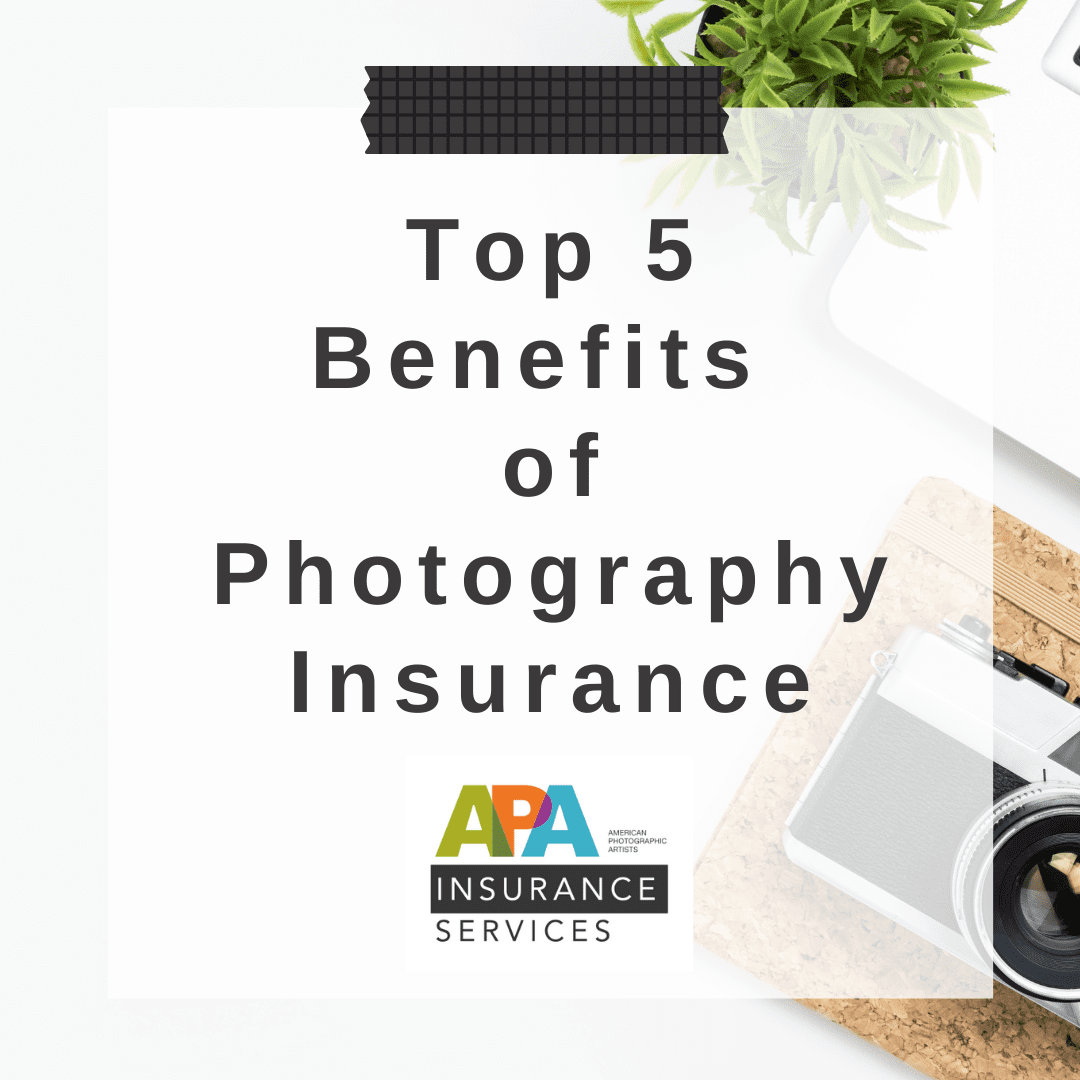 Chances are, you became a professional photographer or videographer for your love of the work and your talent for capturing moments in time. While those are both noble reasons to pursue a rewarding career in photography and videography, it's vital to also bring business acumen into focus. One of the best ways you can protect your business is by purchasing a photography insurance policy. Over the course of your company's lifespan, you may need to put in a claim – that might otherwise have proven a hit to your bottom line or a threat to your company's viability. Still need convincing? Here are the Top 5 Benefits of Photography Insurance…
Protection from Third-Party Claims of Property Damage
APA Insurance Services offers General Liability Insurance, which protects you from third-party claims of property damage. Any time you are on a location shoot – for instance, a real estate photography gig – there's always a chance something could go wrong. One of your heavy 7-foot light stands could take a tumble and smash a mirror that's worth several thousand dollars. Your General Liability Insurance from APA will protect you from having to pay for those damages out of pocket. If one of your cameras or pieces of equipment (like that expensive 7-foot light stand) is damaged on a job, it will be covered with our camera equipment insurance.
Protection from Third-Party Claims of Bodily Injury
Ask any newborn photographer and they'll tell you they have one of the best jobs on the planet. However, their job comes with high risk as those little bundles of joy are lovingly posed. While you hope you'll never need to use it for a reason such as injury to a model of any age or size, APA Insurance Services' General Liability Insurance will cover bodily injury, as well. The same holds true for any one on your staff who might incur an injury on the job through our Workman's Comp Insurance.
It Follows You Wherever You Go
Policies from APA Insurance Services offer worldwide coverage on your scheduled equipment – a terrific option for travel photographers. Wherever you are on the planet, you can rest assured that your equipment, you and your staff are all covered. From an equipment standpoint, that includes everything from fire and water* damage to accidental breakage. Our policies will even cover theft.
Two Policies from Which to Choose
Regardless of whether you have a few shoots a year or several every week, every photographer and videographer need to have some degree of insurance coverage. APA Insurance Services is proud to provide two policies from which to choose that will best fit your individual needs and budget. You are not required to be an APA member to purchase our policies, although APA members do benefit from exclusive discounts. Plan I addresses equipment only coverage – offers owned and/or rented equipment and includes replacement cost. Plan II is far more comprehensive – covering equipment, computers, hired and non-owned auto liability, errors & omissions and other vital coverage for your business. The higher the value of your equipment, the higher the premium – but installment payment plans are available for this policy. And because we offer policies from multiple insurance carriers, we can shop around to find you the best rate. Learn more about our policies: Equipment Only or Premier Photography Insurance Package.
Peace of Mind
The number one reason to have photography insurance is for peace of mind. When trying to get into your creative space and focus on the subject on the other end of your lens, the last thing you want to worry about is all that could go wrong. That's our job. As a matter of fact, it's our only job. APA Insurance Services ONLY insures photography and videography professionals – it's our specialty. We're proud of our role in providing insurance solutions for professional photographers… and you could be next. To learn how you could start saving money while protecting the business you've worked so hard to build, call our team of insurance pros today at (678) 822-0150 or email: karen@apainsuranceservices.com. For your convenience you may also complete an application on our online contact form and one of our team members will be in touch with you shortly. To learn more about APA Insurance Services, visit us at www.apainsuranceservices.com.
Filed Under: Blog