Posted by

APA Insurance Services

on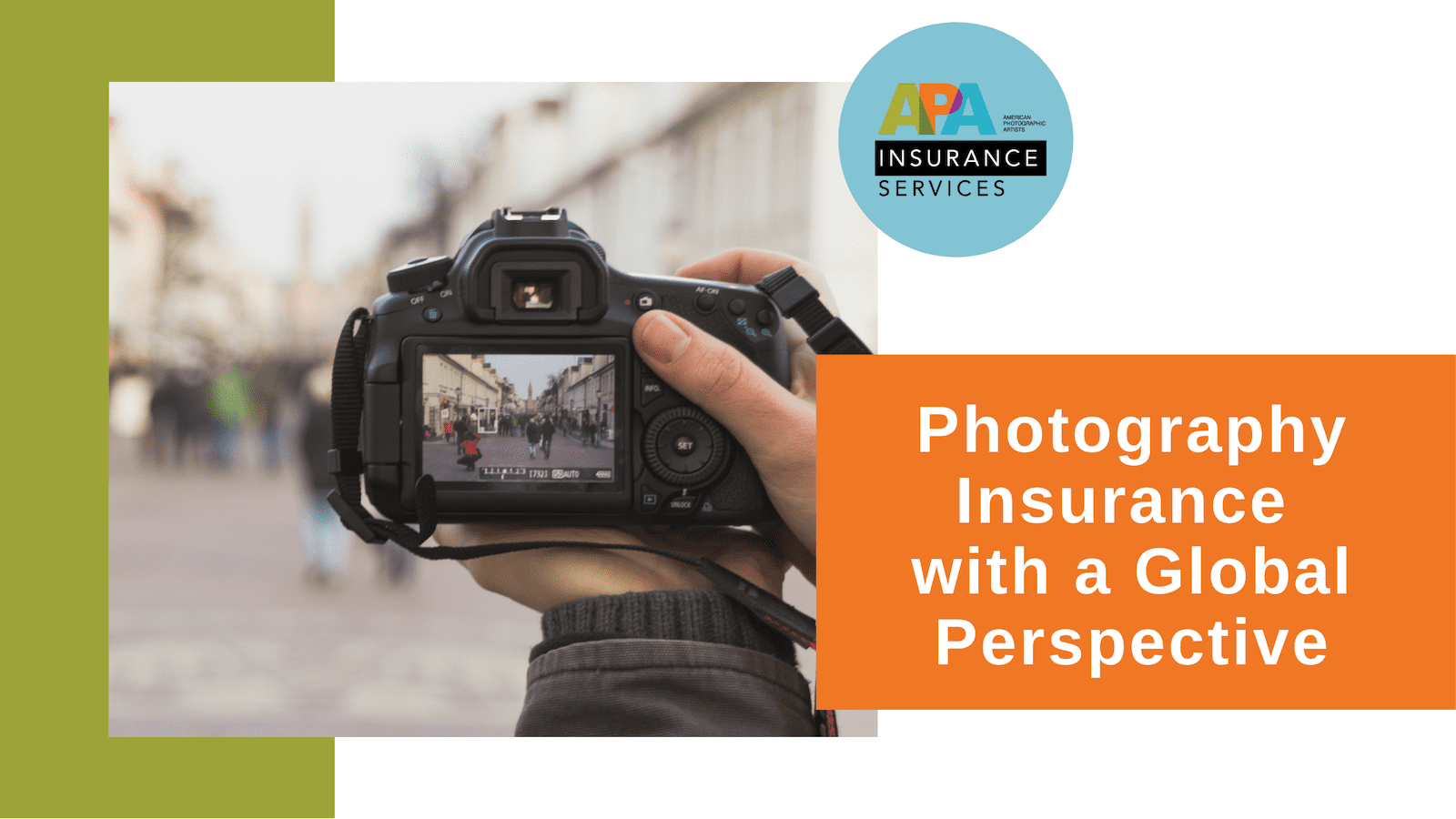 Does Your Current Plan Offer Worldwide Coverage?
As the exclusively endorsed photography insurance provider of the American Photographic Artists (APA), APA Insurance Services is proud to serve a broad range of professional photographers. From those capturing panoramic shots of the sunrise over Paris' picturesque city skyline to those keeping in step with the Conga line at a wedding reception within view of the crystal blue waters off Aruba, the value of worldwide coverage cannot be overstated.
We offer two plans to serve everyone from Destination Wedding Photographers to Travel Photographers and beyond – both of which include worldwide coverage:
Plan 1 | Equipment Only Coverage
Covers OWNED and RENTED equipment
WORLDWIDE Coverage on equipment
Includes Equipment Coverage UP TO $21,000 for Non-APA Members, and $31,000 for APA Members
Includes Coverage for TWO LAPTOPS (with maximum value of $2,500)
Includes Coverage for THEFT, MYSTERIOUS DISAPPEARANCE, FIRE, VANDALISM and ACCIDENTAL BREAKAGE ($1,000 deductible)
Short term coverage available (maximum of 7 days)
Minimum ANNUAL Premium Starts at $475 for APA Members, $600 for Non-APA Members
Premiums must be paid up-front and in full
Deductible is $1,000 for, Fire, Vandalism and Accidental Breakage as it is for Theft, Mysterious Disappearance
**No coverage for items that are being used on Water/Vessel.
Plan 2 | Premier Photography Insurance Package
Enjoy all the benefits of our Plan 1 with several invaluable coverage add-ons that are ideal for professional photographers:
Commercial General Liability coverage across the United States, Puerto Rico and Canada –providing coverage against bodily injury, personal injury, and property damage caused by the business's operations, products, or injuries that occur on or off the business's premises. It protects your business from Third-party injuries financial loss should you be deemed liable. It also, includes medical bills., attorney fees, judgments or settlements
Coverage Limit of $2,000,000 for general liability claims (invaluable in the event of an off-site injury or off-site property damage!)
Endorsement available that will extend your Commercial General Liability internationally. There is an additional premium of approximately

$350-$500 annually.
Covers OWNED and RENTED equipment
WORLDWIDE Coverage on equipment
Includes Coverage for THEFT FIRE, VANDALISM and ACCIDENTAL BREAKAGE ($250-$500 deductible)
ON AND OFF-PREMISES Coverage for general liability claims
Errors & Omissions Insurance – protects you and your photography business if a customer alleges that your service resulted in an incorrect, incomplete or unexpected outcome.
Business Personal Property (BPP) – covers property owned by you and used in your business operations, like wardrobe, props, sets, office furniture and more.
Business Income Insurance
Hired & Non-Owned Liability Insurance – covers bodily injury and property damage caused by a vehicle you hire (rent or borrow) or caused by non-owned vehicles
Auto Physical Damage Insuranceq
At APA Insurance Services, we make it our mission to learn everything we can about your photography business to ensure that you are properly covered in every instance.

If you have questions or would like to get a quote, please contact APA Photography Insurance Problem Solver, Karen Stetz at

karen@apainsuranceservices.com

or (678) 822-0150 ext. 150.
Filed Under: Blog, photography insurance
|
Tagged With: insurance for photographers, photographers insurance, photography insurance