Posted by

APA Insurance Services

on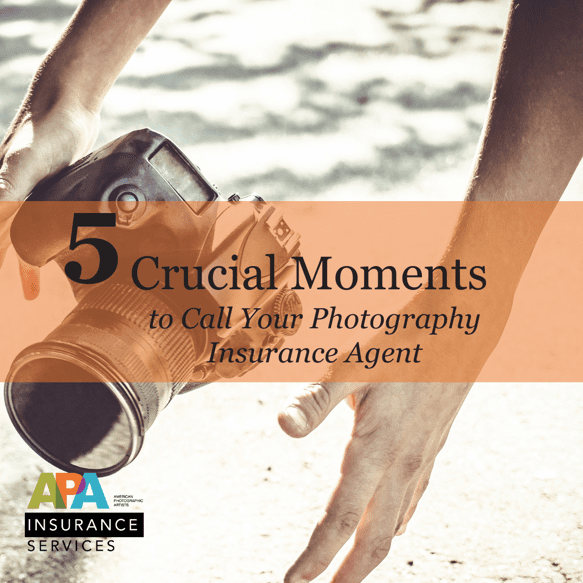 Benjamin Franklin once penned the quote, "By failing to prepare, you are preparing to fail." Very few photographers launch their business – particularly one that fulfills a lifelong dream – worried about worst case scenarios or catastrophic unforeseen moments. However, it's vital in virtually any business to be prepared for virtually any outcome, making insurance not only a wise investment, but also a necessity. In addition to offering peace of mind to the business owner, it also provides a safety net if something goes wrong. A good insurance agent will help you assess the risks and anticipate the unexpected while safeguarding you and your business against potential mishaps and possible cataclysmic loss.
While many business owners have realized the value of having insurance and benefited from its protection, for those who simply pay their insurance fees on a revolving basis without ever having filed a claim, the one looming question is often "when should I call my insurance agent?" At APA Photography Insurance, we're accustomed to helping our clients – which is why we've compiled this list of 5 crucial moments to reach to your photography insurance agent, so you'll know "WHEN" the need arises…
Your Equipment is Lost, Stolen or Damaged:

Covered by both our

Equipment Only Coverage

and

Premier Photography Insurance Package

Policies, if your owned or rented equipment is damaged due to accidental breakage, fire or vandalism OR is lost due to theft or mysterious disappearance, you can reach to your APA Photography Insurance Agent. We will put your policy to work for you – no matter where in the world you might be at the time. The policy covers your gear up to it's scheduled replacement cost, so we can see that it's repaired or replaced and get your business back up in running as quickly as possible. Whether in your studio or out on location, we understand that accidents happen. Our

Premier Photography Insurance Package

not only covers your equipment. It also includes General Liability Insurance (US, Puerto Rico & Canada). General Liability insurance is an affordable way to protect your business in case you ever must defend a claim against your business in court. With this coverage, you will receive funds up to your policy limits ($2,000,000) to cover damages assessed by the courts to compensate third parties and cover legal defense fees and settlement charges. With General Liability coverage, your business is protected for an accidental event if you or anyone working for you are found legally liable for bodily injury or property damage to a third party.
Property is Damaged in Your Study or On Location: Another major benefit of our

Premier Photography Insurance Package

is that it also covers property damage – covering everything from a custom fashion gown torn at your studio to a broken mirror at a multi-million-dollar property you're photographing. Again, a quick call or email to your APA Photography Insurance Agent will provide you the guidance you need to determine the next best steps.
Your Photography Business is Evolving: Like most creatives, photographers often bloom and grow in their businesses. A business photographer who specializes in in-studio headshots for corporate clients may find the need to evolve into real estate photography when one of those headshot clients has a need. A call to your APA Photography Insurance Agent will help you determine whether you have the necessary coverage to protect you before you embark on that off-site photo shoot.
Protection for You, Employee(s) if Injured: Workers' Compensation covergae is not included in the policies above.

Workers' compensation insurance, commonly known as workers' comp, is insurance that covers medical expenses and a portion of lost wages for employees (anyone you 1099) who become injured or ill on the job. Coverage also includes employee rehabilitation and death benefits. You may elect to be included or excluded from this coverage.
If you Have Questions About Coverage: Whenever you have a question about anything industry or insurance-related, from launching to streamlining your coverage please contact Karen Stetz your APA Photography Insurance Agent.
Because our office hours are Monday-Friday from 8:00am-4:00pm EST and we're closed on Saturdays and Sundays, APA Photography Insurance is also proud to offer self serve certificates of insurance. They can now be processed 24/7 365 days by you or anyone needing a certificate from your business. Please access your certificate of insurance using our self-service certificate site www.DIYCerts.com. If you have any issues using the new site and remember to add admin@diycerts.com to your safe sender list to ensure your certificate is delivered.*Please note we will still assist you on any certificates requiring endorsements and/or other items that might need to be sent with a certificate during business hours.
To learn more about our policies and online service center, please visit us at www.apainsuranceservices.com. Contact Karen Stetz, Agent Ph: 678-822-0150 | Toll Free: (877) 269-9021 | Email: karen@apainsuranceservices.com
Filed Under: Blog, photography insurance
|
Tagged With: insurance for photographers, photographers insurance, photography insurance